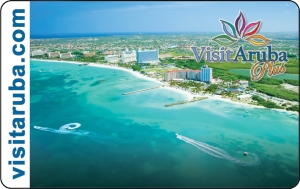 When in Aruba you can take advantage of serveral discounts and offers by participating in the VisitAruba Plus card membership program which is specially designed by VisitAruba.com to offer Aruba visitors significant benefits when on the island. Since the program started in 1999, tens of thousands of members have signed up for and taken advantage of the program's benefits.
The VisitAruba Plus card is a convenient and effective way to get the most value out of your Aruba vacation with considerable discounts and special offers! As a member you can save hundreds of dollars on your Aruba trip by using your card at one the many participating locations, several of which are exclusive to VisitAruba Plus members. The card often pays for itself with a single use!
Participating companies include:
Using the VisitAruba Plus discount card is very easy. As a member you will receive your own personalized VisitAruba Plus discount card, either delivered to your resort or sent to your address by postal mail. Just present your card at participating locations to take advantage of the discounts and special offers.
In most cases, by using the card just once you will have recovered the very reasonable price, and after that it's pure savings over and over again since you can use it as many times as you like and always receive the discounts. The Visit Aruba Plus discount card is valid for unlimited use during the card validity period which starts and ends on December 1 annually.
More information is available on the VisitAruba Plus website.